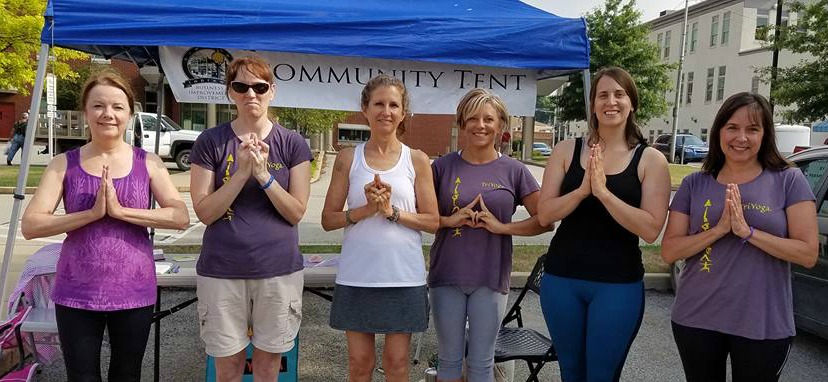 TriYoga Indiana PA was at the Community Tent at the Indiana County Farmers' Market this past Saturday, July 23, and we had such a great time!
What was most amazing to all of us was how profound the beautiful inner calm and expansive peace that we feel in the TriYoga Flows was.  The contrast between this blissful inner state and the outer environment is often not so dramatic in the middle of a quiet yoga studio or space.  But amidst the happy bustle of the busy Farmers' Market, it was quite striking, and yet felt just as deep and strong as ever.
Special thanks to Julie DiDomenico, Katy Houser and Alaina Petrillo who were beautiful TriYoga Flow-ers and demonstrators all morning!  Julie drove from Pittsburgh to show her support and love for TriYoga and is so good at encouraging EVERY body to try TriYoga.  Katy knows everyone in western Pennsylvania and just can't even help sharing her love for TriYoga.  And Alaina always encourages me to step out into the world and do the marketing things I might not do without her support.  Plus she has brilliant and amazing tent putting-up-and taking-down skills – just ask her, really!!
We were also joined in our 9:30 flows by Janice Parker and Susan Zundel who brilliantly showed up before it got too hot, as well as Barb Hauge, Terry Hamill and Shelly McGinnis, who came later and perspired through the flows with beautiful calm!
We had such a good time that we'll be back again this summer.  Hope to see you there!