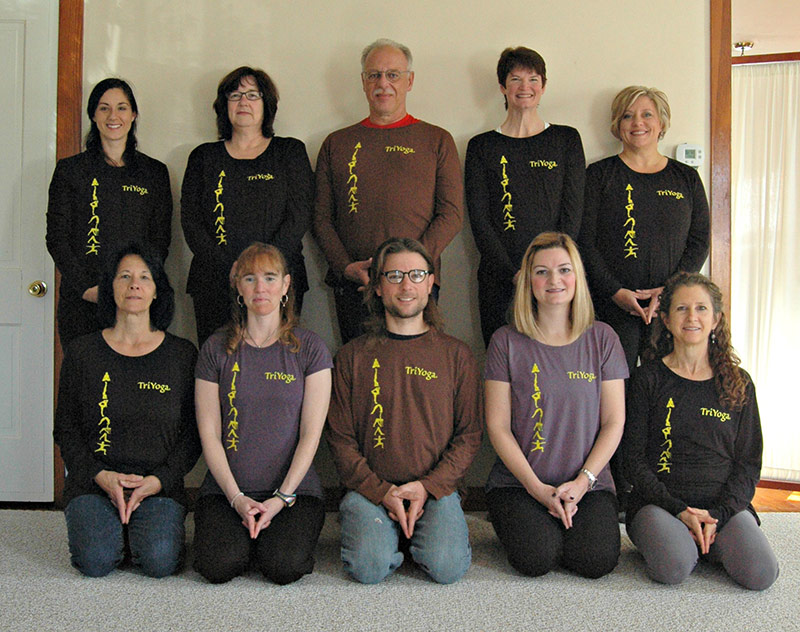 Class Schedule
Mondays                   Basics                                      4:30-6 pm
Tuesdays                  Breathing & Meditation          9-10 am   FREE!  
Tuesdays                  Level One                                5:30-7:15 pm
Wednesdays             Basics                                      9-10:30 am
Wednesdays             Level Two                                5:30-7:30 pm
Thursdays                 Level One                                9:30-11 am
Thursdays                 Basics                                      5:30-7 pm
Fridays                      Therapeutics                           9:30-11 am
Basics is the foundation of our practice.  Yoga beginners and students who are new to TriYoga usually start in Basics.  Core alignments are introduced and refined, strength and flexibility is increased throughout the body, and breath awareness is developed. Bolsters, pillows and other props can be used for comfort and to ensure alignment.
Level One, the Earth series, is the second TriYoga level and it progresses systematically from Basics. New flows and new postures are introduced, and core alignments are deepened and further refined. Level One breathing practices are introduced.
Level Two, the Water series, introduces increasingly more challenging and longer flow sequences, while the flows, alignments and postures learned in Basics and Level 1 are systematically refined. Level Two breathing practices are introduced.
TriYoga Therapeutics provides healing, maintenance and deep relaxation and is helpful for stress reduction, recovery from injury or illness, and low-grade chronic pain. Therapeutics is great for beginners, athletes, or anyone who wants to increase their flexibility and relaxation. Supported postures are held for several minutes and longer with rhythmic conscious breathing techniques and mindful awareness. Props are used to ensure comfort, alignment and deep release of tension.
Fees and Attendance Options:
NEW STUDENTS ONLY – $45 for 4 weeks OR $80 for 8 weeks
Basics – $80 per 8-week session
Level One – $90 per 8-week session
Level Two – $90 per 8-week session
Unlimited Attendance (Two or More Classes per Week) – $150 per 8-week session
Drop-Ins – $15
Privates – $65
Class Locations:
Most classes are held at TriYoga Indiana PA, my home studio on North First Street, Indiana, PA
New students, please email or call for directions!
What are the benefits of the small class sizes?
Small classes are great for many reasons!  I can give more attention to individual needs and concerns.  I can pay more attention to refining your alignment – and alignments really matter!  Both in terms of comfort and safety, but also in the overall effectiveness you will feel in the practice.
There is also a great sense of community that develops in the smaller classes when people come together week after week.  It's amazing to be with a group of  people who are learning to turn their focus inward, to develop a meditative focus and an inner calm.  And all that said, we do laugh a lot at times!
What if I have to miss a class?
No problem! Just come to an extra class within the same session.
What if none of these classes meet my schedule?
If you have an idea or a request for a new class time, and especially if you have a friend or two who would love to join you, I am ALWAYS interested in teaching more, and am happy to consider adding additional classes.
What about trading for classes?
I often trade with students in exchange for posting flyers or other services.  If you would like to propose a trade, contact me!